11 Hottest Interior Design Trends for Homes in 2020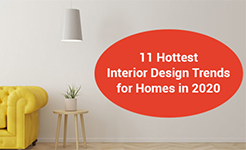 Whether you're moving into a new house or upgrading your space, there's nothing that says "feel right at home" more than adding a personal flair to the space. While architecture and construction are the bones of the house, it's the special touch of interior design that gives the space its heart and soul.
The good news is that the latest interior design trends are here, and they're sure to grace the halls and bedrooms of the newest homes in the market. Get the keys to your new house and start turning it into a real home, perfect for the hip and trendy city dweller. Start with the top interior design trends sweeping through modern spaces for the modern homeowner:
All About Colours
Swap Bold Colours for Gradients
Bold colours have swept through interior design trends in recent years. However, starting this fall and well into 2020, we're seeing rich, bold shades swapped and evened out with gradients, creating a more relaxed, but coordinated look as similar shades build up a common palette. We're not just talking about paint on the walls; gradients can be found everywhere, including furniture pieces, linens, and cute little accents. Not a fan of over the top decor and accents? The cool, calm, and collected vibe that gradients give off creates more than enough visual interest while maintaining a pleasantly minimalist aesthetic.
Pastel Colours
The pastel Instagram dream has descended upon interior design. It's inviting you to brighten up your home by welcoming in light, dream-like shades in lieu of dark, earthy tones of natural wood. Use complementary shades for structures like walls contrasting against furniture and accents. You could create gradients out of staple pastel colour palettes like coral, lavender, and various greens and blues.
Create Contrasts
Can't choose between a single palette or not a fan of the summer vibe of pastel shades? Contrasting colours might just be the look you need! Up-and-coming interior design trends come with a wide colour palette, highlighting rich earthy tones in reimagined shades of sand, wood, various greens, coral, brick, olive, and sky blue. Along with classic shades like white, light ash, and gray--- the best way to go about this is by creating contrast.
This hot interior design trend invites you to experiment with different shades on the opposite ends of the spectrum. Using this technique, you can create cozy and interesting visuals at home, enveloping each room in a unique character.
Geometric Accents
This interior design trend dares you to play with shapes and reimagine the form of essentials. Items such as lamps and mirrors for a literal, but tasteful take on form and function. But don't limit yourself to accent pieces. Make a statement with geometric furniture like a coffee table or ottoman, to add a quirky, multi-dimensional touch to an otherwise flat space.
Glimmering Glass
Glass is one of the most common materials used in interior design, but this 2020, it's taking on a whole new look. More than its clean but functional aesthetic, the latest design trends are focused on bringing out its mesmerizing glimmer right when the light hits, setting off an entire spectrum radiating throughout the space. Think accents like candle stands and other decorative pieces made out of glass, and spend hours just getting lost in the glimmer.
Loft Style Spaces
Loved for the versatility brought on by their open floor concept, the artistic and functional possibilities with loft-style spaces are endless. Gone are the days of traditional room settings and kitchen enclosures—lofts are stylishly versatile. They allow you to maximize control over the look and feel of the space, which you can revamp without a pricey remodel. For loft-style spaces, think metal and wooden elements finished with rich, dark shades for a clean and polished feel.
Green Living
Eco-friendly living is making waves in various lifestyle trends this coming year, including starter homes. Going green means a lot more than sorting out household waste and using eco-friendly shopping totes. It entails building your home sustainably with the use of eco-products and decorating with accents made out of recycled materials. Check out interesting new wallpaper options, furniture and other household essentials, all crafted using eco-friendly materials.
Country Vibe
Even the busiest city dwellers at heart crave warm and cozy environments like in country homes. This year's interior design trends invite you to welcome that vibe in the busy metropolis. Come home to a summerhouse-style abode decked in white wooden chairs, metal shelf handles, and plaid tablecloths. This style of interior design will let you take a break from the bustling city scene.
Ethnic Elements
Dive into your ancestry and honour some cultural traditions by incorporating ethnic elements and accents into the interior design of your home. Celebrate cultural diversity with various ethnic-inspired decor and unlock endless possibilities. Showcase your roots and envelope your home with unique touches of what makes up who you are.
Less is More
Minimalism has been at the core of modern interior design for a number of years now, and even as we enter 2020, this trend shows no sign of slowing down. Now a classic style, minimalism proves that less is more, creating an illusion of a bigger, brighter space simply by being compact and clutter-free.
High-End Touches on a Budget
Whether it's redecorating your home or furnishing a new space, budget often comes to mind. This is not uncommon among new homeowners as you're already making a major investment into real estate. But that doesn't mean you have to sacrifice adding tasteful, personal touches to stay within your budget.
Score high-end touches and exquisite interior design trends on a budget by exploring various options for furniture. Start with fan-favourites like IKEA and Structube, and progress to local neighbourhood stores and flea markets. You'll be surprised by how many trendy pieces you can score to reimagine the space and make it your own.
Getting the keys to the property is just the first step to becoming a certified homeowner. It's the personal touches that transform a house into a real home. Cozy up with the latest interior design trends taking over this 2020, and create the right look and feel for your lifestyle.
If you want to learn more about interior design trends to incorporate into your new home, call Spectrum Realty Services at 416-736-6500 or contact us here.