5 Tips for Staging Your Home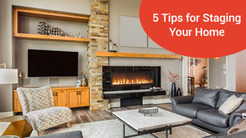 When it comes to selling real estate, the right asking price is certainly crucial for a successful sale. But just as important is staging your home to show off your property's maximum potential. A tidy lawn, decluttered living space and accent decor can do wonders to get people's attention.
Purchasing a home is more than about bricks and mortar. Those with children will want a picturesque setting in which to raise a family. Well-established urban professionals, on the other hand, may be striving for a property with luxury and class.
Give potential buyers a beautiful canvas in which to map out their goals and chances are they'll see your home as the perfect place to live out their dreams. From boosting curb appeal to rearranging your furniture, here are 5 tips for staging your property.
1. Make a good first impression
Many people will do a quick drive-by first before deciding whether to book a showing. First impressions are crucial when selling your home, so make sure your property looks just as good on the outside. Too many sellers spend all their time improving the interior, and put minimal effort into boosting the home's curb appeal.
Simple things like power washing the driveway and cleaning the windows can instantly freshen up the exterior. Make sure the lawn is mowed and all weeds have been pulled out. If you're selling in the spring or summer months, don't forget to add some colour with lush greenery or blooming flowers.
Your porch should always feel inviting, so repaint or stain the wood if it's looking worn out. A clean doormat and some tidy porch furniture can also make your home feel welcoming. Illuminating the front walkway with solar lights is a nice touch, especially for interested buyers who may be driving by at night.
2. Get your house squeaky clean
From gleaming floors to sparkling bathroom tiles, every inch of your home should be immaculately cleaned. This is one of the easiest and cheapest ways to instantly boost the perceived value of your home. Aside from dusty furniture or water stains on shower doors, keep an eye out for greasy cabinets and cobwebs in the chandeliers.
Make sure every room, including areas you don't use often, are well scrubbed and dusted. Look for scuff marks on walls and doors, and make sure window ledges are free of dead bugs and debris. You may want to hire a professional cleaning team for tough jobs, especially if you own a larger home. Never skimp on this aspect of staging — a squeaky clean home is key!
3. Clear away the clutter
A successful home staging requires a complete de-cluttering of the space. Knick-knacks, extra furniture and junk items must go. Some homeowners think stuffing these things into a closet should be good enough. But potential buyers always check closets and cupboards to gauge storage space. Nothing is more unattractive than opening up a linen closet, only to find souvenirs from your trip to Detroit or a box of old electronics.
Clear off all surfaces and make sure there's nothing on the floors except furniture. You can make your home appear exponentially bigger by simply decluttering the space. Tidy away anything that's unnecessary for everyday living, or any items that are awkward or just plain ugly.
4. Keep the style generic and timeless
Although you may be a fan of 1920s Art Deco, a majority of potential homebuyers are probably not. Rein in your personal style and opt for something more timeless instead. When people walk into your home, give them an opportunity to envision how they can decorate the space. The best way to do this is to provide a generic aesthetic. So, put that lime green mid-century modern chaise in storage, or lend that old grandfather clock to a friend. You can go nuts implementing your personal style at your new home instead.
5. Use 'extra rooms' wisely
You may have been using that den as a storage area for leftover tools, or that spare bedroom as a dumping ground for your grandmother's treasured antiques. But every room in your home should have a clearly defined purpose. Think about what potential buyers may want to see in these extra rooms instead. Perhaps it's an office, a baby's nursery or a guest bedroom. Whether you rent an office desk or borrow a bed from a friend, temporarily convert these areas into a useable space. Turning a junk room into a 'real room' will pay off big in the end.
Spectrum Realty is the GTA's preferred choice when it comes to selling real estate. If your home is in need of staging, rely on the experts to put your property's best foot forward. Our team can get your home ready for an open house that will wow potential buyers and garner a successful sale.
For more information on staging your home, call Spectrum Realty at 416-736-6500 or contact us here.