7 Things Home Sellers Should Never Reveal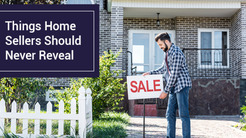 Selling a home is a process that can sometimes take months. Many home sellers get impatient when their property does not sell as soon as it is listed on the market. Out of desperation to close the deal, home owners may end up revealing several facts that they should never disclose to anyone other than their realtor. If you are looking to sell your home, keep reading to avoid falling into the trap that many before you have fallen into.
The duration the house has been on the market

Revealing how long your house has been on the market has never been a good idea. If it has been on the market for too long, potential buyers might think you are desperate and offer a lower price. In other cases, buyers might also think that the house has a problem and that is why the house hasn't sold yet.

The reason for selling

Perhaps you are moving for personal reasons, you should never reveal those reasons to the buyer. This could potentially work against you and get the buyers to change their mind about putting in an offer.

You're set on a fixed amount and won't accept anything less

The buyer might take this as a sign of inflexibility and shy away from giving you their offer. In the end, this could push away potential buyers that really love the home.

Things that you never got to fix or renovate

It might be tempting to mention things you always wanted to do with your house. Whether it is knocking down a wall or just fixing some loose screws on the cabinets, do not mention it. This alerts the buyer of other costs that they might incur after purchasing the home.

Amount of money spent renovating the house

Even though you love the new house renovations you made since moving in, do not mention how much it cost to the buyers. It might seem like you are justifying the price you have set and could inhibit the buyers from providing their personal opinion on the house.

You did the renovations by yourself

It is normal to make renovations in your own house in an effort to improve it. However, if you did the renovations yourself, do not tell the buyers. Especially if you are not a certified contractor. They might think that the renovations were substandard because they were not done by a professional and use this as leverage for submitting a low offer.

Your house is the best on the street

It is normal for you, as the homeowner, to feel that you have the best house on the block but you do not have to tell all your buyers that. Allow for buyers to make their own opinions and visualize any changes they may want to make in the future.
Deceiving the buyer is not the goal, but there is such a thing as saying too much when selling a house. If you want to sell your house fast, keep quiet and let the house do the talking.
To learn more, call Spectrum Realty today at 416-736-6500 or contact us here.