Buying Your Dream Home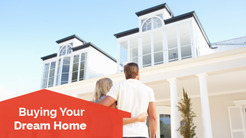 Whether you fantasize about living in an urban loft or a raised bungalow in the suburbs, for many Canadians, one of life's biggest goals is purchasing a "dream home." Most of us hope to find a home that feels as though it was built just for us.
When looking for your dream home, the goal will be to find something you'll enjoy long-term. That's why you'll be on the lookout for features you and your family will be happy with for the foreseeable future. So how will you know you've found the perfect place? Read our list of factors to consider when searching for your dream home.
1. Neighbourhood and surrounding areas
It's important to remember your home is part of a larger community. Even though you may be in love with the marble floors and huge walk-in closets, your property will not exist in a bubble. That's why it's important to find a home in a neighbourhood that suits your needs.
If you're raising children, for example, you'll want to live in a safe area with lots of kid-friendly amenities. Does the neighbourhood have good schools, nice parks, and a community centre nearby? Or maybe you're a young professional without a car. This means you'll likely want to be within walking distance to coffee shops, restaurants, and the subway line.
Spend some time in various neighbourhoods getting to know the area. Shop at the local stores, eat at the popular restaurants, and take a walk in the nearby park. Once you've narrowed down your options, tell your real estate agent. He or she can then help you find your dream home within that specific community.
2. Features you've always dreamed of
Buying your dream home is different from purchasing any regular home. In the past, you may have wanted a specific number of bedrooms and a location within walking distance to work. A dream home, however, is more so about fulfilling your wishes than it is about meeting everyday needs.
Don't be shy to come up with a wish list, no matter how frivolous your dreams may seem. And remember, everyone's wish list will be different. Some may dream of waking up each morning to the sound of waves lapping on the shore, while others may fantasize about sneaking away to their wine cellar each evening.
Ask each family member to come up with their own wishlist, so you can all compare notes. Then, rank each item by importance. You may not find a property with all of these features, but it will certainly help you focus on homes that appeal to everyone.
3. A layout you like
3,000 square feet may feel different from one home to another. This is where a good floor plan makes all the difference. Depending on your preferences, you'll want to find a layout that gives you ample space in the areas most important to you. For example, you may want more square footage dedicated to the bedrooms, even if that means the living areas and kitchen are a bit smaller.
Finding your dream home is all about finding a layout you love. Imagine how you'd like to use the space as you explore each property. If you'd like to host more gatherings, consider an open-concept layout. Or, if your family tends to spend a lot of time in the kitchen, look for a kitchen that includes a dining area plus breakfast bar.
>4. Find a real estate agent you trust
Finding your dream home will only be a successful endeavour if you've found the right agent. By working with a trusted real estate professional, you'll gain access to unique listings that fit your search criteria. Not only can a reputable agent introduce you to your potential dream home, but he or she can also put you in touch with trusted financial professionals. Choosing the right property is just the first step. Rely on your agent to help you put together an attractive offer and even help you get a pre-approved loan.
Spectrum Realty offers a team of real estate professionals who can simplify the home-buying process. Whether you're searching for a trendy condo in Toronto's downtown core or a secluded paradise in the Scarborough Bluffs, rely on Spectrum Realty to help you locate the perfect property in the GTA's exciting real estate market.
For more information on finding your dream home, call Spectrum Realty at 416-736-6500 or contact us here.