Create Your Perfect Outdoor Living Space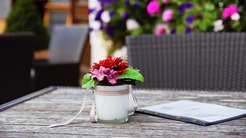 As the weather gets warmer, it's time to shift our focus from our indoor living spaces to our outdoor living spaces. Decorating outside presents a whole new set of challenges, as well as an array of new opportunities. An outdoor living area means that you can take your décor style in a whole new direction to give the outside of your home new character. Whether your home is new and needs some personal flair, or is well loved and needs some fresh curb appeal, these styles are fun and easy to execute.
California Boho
Wicker, concrete, and lots of greenery will help you achieve this Cali-inspired bohemian look and feel. Don't shy away from mixing textures and patterns, and definitely don't shy away from fringe. Make use of warm, bold colours and vintage finds. Rather than heading straight to your nearest home décor store, check out your local thrift stores to see if you can find any pre-loved items that will help bring some personality to your space.
Rustic Country
Worn and wood are the two words that should act as your foundation for putting together a rustic country theme. A wooden table with bench seating and pillows for cushions will not only be functional, but is a great way to introduce some texture to the space. Focus on quirky, homey accent decorations and simple floral touches. Think farmhouse chic.
Marrakech Courtyard
Achieve this summery look by introducing terracotta potted plants, bold geometric patterns, brightly coloured textiles and layers of rugs. Incorporate low-rise seating, plenty of jewel tones, and a mixture of textures wherever you can to tie the space together, and consider a serving tray atop a fabric ottoman (that can be covered to protect it from the elements) in place of a coffee table or patio table to really drive the theme home.
Sundrenched Santorini
There's two things you have to keep in mind when you're going for a Santorini inspired outdoor space: white and blue. The goal is to create a space that is light, open, and airy – This should be carried over when choosing furniture and pillows (you'll need lots of pillows). Try to make use of draping fabrics and soft linens that can capture the summer breeze and aim to stick to mostly stone colours with the exceptions of blues and greens.
How Can Spectrum Realty Help?
When it comes to real estate services in the GTA, Spectrum Realty leads the pack. Our team can help you find the property that fits all of your needs and hits all of the current trends. If you're looking to sell, we can help guide you towards the best choices for marketing your property effectively. Regardless of your situation, a well thought-out outdoor living space can make a huge difference, and Spectrum Realty is here to help. For more information on buying or selling real estate, call Spectrum Realty at 416-736-6500 orcontact us here.