How to Bring Spring into Your Home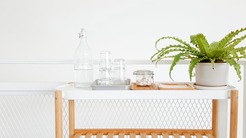 There's nothing more satisfying than seeing signs of spring in the GTA so why not bring some of that freshness indoors? Changing the mood in your home can lift your spirits and put the spring back into your step. You'll be motivated to elevate the mood and décor of your home with these simple ideas. Here are Spectrum Realty's top 5 tips on how to bring the sights and scents of spring into your home.
Add green - whether you use plants like succulents, ferns, bamboo, or palms or you prefer branches in bloom like cherry blossoms or forsythia, adding a touch of green and flowering branches, around the house will make it feel like an indoor garden. Try adding a few spring greens to every vignette, space, & corner of every room. Adding a spring wreath to your door is a great way to say, "We're in spring mode here!"
A pop of colour - Bring in fresh cut flowers like tulips or daffodils and flowering plants like orchids or hydrangeas into your home. Now is the perfect time to visit your local garden center or florist and pick your favourites. Fresh cut flowers are an automatic ticket to spring vibes in spaces around your home. Some florals in a vase just make every area of your home happy. Add a spring bouquet on your dining room table or entrance way to welcome guests.
Brighten up with fruit - Use fruit as a centerpiece for your kitchen table or counter. Nothing says sunshine like a bowl of lemons, limes or green apples. These fruits offer all the colours of spring.
Clean up - Tidying up, purging, and clearing out unwanted items from every space in your home including home decor, closets, and other living spaces will make for a happier, more organized home. Gone are the slow and lazy darker days of winter so a little freshening up will work wonders. Not only will you bring your home back to life, but you will feel totally refreshed and revived. Don't forget, it's also time to get rid of those winter boots and coats!
Lighten up - It's time to get rid of dark colours. Replace dark and heavy blankets with lighter ones. Everything from accent pillows to throws – pack them all away for next winter and sport some lighter and brighter ones. Add lighter linens to your bed, and more luminous accents all around the house. Don't be shy to add a pop of brightly coloured motifs like floral patterns or botanicals. Open curtains and let the sunshine in. On warmer days, be sure your window screens have been cleaned before you open your windows, you want fresh, clean air coming in and not dust.
Do you have a question about real estate in the Greater Toronto Area? From new homes and condos from some of the top new home builders to resale residential and commercial, fill out this form and an expert from Spectrum Realty will get back to you. Visit https://www.spectrumrealtyservices.com/