How to Buy a House For Less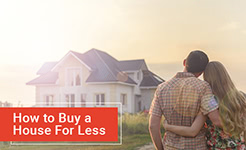 It's no surprise to Ontarians that buying a home in Toronto has become nothing short of impossible. With a shortage of affordable houses, even families earning well over $100,000 a year are struggling to find suitable dwellings. Despite this, more and more young families and professionals flock to the city annually, seeking a place to call their own.
At Spectrum Realty, we partner with professionals who offer decades of experience to our clients. Working in the Toronto housing market for so long, we understand what goes into buying a home in the GTA. Yes, finding affordable lodgings is difficult, but it's achievable. Here are a few Spectrum Realty tips to help you buy a home for less in the big city.
Seek a Short Sell House
When a homeowner is unable to make payments on their property, they may choose to do something called a short sale. This is allowed when lien holders accept less than the remaining debt on the house to sell it quickly. Standard real estate regulations apply to the purchase because the seller still owns it, but the price is much less than it would be if the owner had more time to sell.
Usually, a bank agrees to a short sale if they're fearful the property will require foreclosure. To avoid the lengthy foreclosure process, lien holders take less than owed. Because the bank must approve any offer made on the house, offers aren't accepted as quickly as you might like. However, if you can get in on the ground floor of a short sale, you could save a substantial amount of money, depending on the original price and remaining debt.
Choose a Foreclosure
When a borrower is unable to pay back a lender, they lose the asset that was offered as collateral on the loan. In the case of a mortgage, the property is repossessed by the bank or mortgage lender and sold to recover lost funds.
An excellent benefit to foreclosure is that the home isn't a work in progress. The low price doesn't reflect the state of the house, but rather the state of the owners' finances. Some foreclosures are beautifully maintained and require very little handy work following the sale. When buying a foreclosure home in Toronto, be sure to have an inspection processed before the sale. Most foreclosures are sold "as is" to make back as much money as possible on the sale.
Invest in a Fixer-Upper
For buyers skilled in the art of hammer and nails, investing in a fixer-upper is a great way to beat the banks. With the right tools and skill set, you can flip a run-down shack into a family home. When selecting a character home with room to grow, be sure to check the "bones" of the structure before committing. If the foundation of the home is cracked, sinking, or has other problems, it will cost more than it's worth to fix.
Updating windows, freshening hardwood floors, and adding a new coat of paint can completely change the look of a run-down house. As a bonus, buying a fixer-upper means that by the time your new home is ready to live in, it will be perfectly suited to your tastes.
Consider Living on the Edge
The edge of the city, that is. Living in the heart of Toronto is thrilling but expensive. As you move further away, past the sea of suburbia, you begin to find houses without that overindulgent price tag. Sometimes, a house is on the dividing point of a great area and a not so great area. These houses are perfect because they put you in a decent neighbourhood without the expense of one.
To find a place you're happy with, which suits your needs, remember to select based on proximity to work, school, entertainment, and shopping. As long as you've got these four requirements checked off your list, you're sure to find happiness wherever you go, no matter the name of the neighbourhood.
House Sales with No End in Sight
From time to time, even the best homes get stuck on the market. Depending on the owners' lifestyle and finances, these houses could remain for years without a buyer unless the right price is offered. On the other hand, some owners are simply looking for a way out, even if that way is a large decrease in sale price.
Working with a Realtor, find homes that meet your housing specifications, and that has been on the market for six months or more. Chances are, these owners are getting desperate to sell, especially if they've already moved and are left paying two mortgages. By offering even $5 to $10 K less than the asking price, you save yourself money and save them another six months on the market, gathering dust and property taxes.
Check Social Media Housing Groups
Social media shopping sites like Facebook Marketplace have really hit the big time these past few years. You can sell anything online, even a house. A great way to find the best prices and even haggle on the high ones is through social media housing groups. Some of these groups are made up of locals interested in the housing market. Often, people post photos and links to new homes for sale, or unique homes for sale.
Make a post explaining what you want in a house and where your budget rests. You'll be surprised to see how many people are willing to help you find a winner. These groups are mainly home seekers, although some may be professional Realtors. Be sure to use a Realtor service before buying, even if the online offer sounds reasonable. The internet is an easy place to get fooled, and having a brick and mortar realty group do the due diligence for you, will help ensure a successful sale.
Contact Spectrum Realty When Buying a Home in Toronto
If you're thinking of buying a home in Toronto, and are looking for affordable options, contact Spectrum Realty. With decades of experience serving the Greater Toronto Area, we know the best places to look for singles, families, and professionals. Call us at 1-416-736-6500 or visit us online to learn more about our realty services today!