How to Get Your Home Ready for the Winter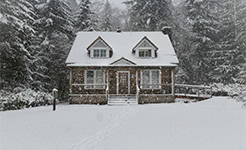 Winter has arrived earlier than expected here in the GTA. It's more important now than ever to ensure that your home is ready for the frigid temperatures, snow, ice, and anything the season may bring. Just like how we prepare for winter by changing our car tires, bringing out the winter gear from the basement, and lugging out the shovels from the shed, it's important to devote time to making sure your home is well-equipped for the season. The busy holiday season is approaching, so your home can sometimes get overlooked. Nonetheless, it's crucial to take some time out of your weekends and plan different ways to protect your home from any potential damages before it's too late. We know that this can seem overwhelming, so we've prepared some tips to help you get started.
Furnace check – There's nothing worse than dealing with a broken furnace in the middle of January! To avoid this unfortunate mishap, take advantage of the remaining days of fall by doing your maintenance check with a professional. This gives you enough time to deal with any repairs and ensure your furnace is up and running for the coming winter months.
Check for any leaks – Heating bills are higher in the winter time, so keeping the cold out and avoiding any heat loss will help protect you and your wallet. Secure all windows and doors and add the necessary weather stripping needed. Door sweeps, rubber foams, sealing tapes, screen patches and draft sealers are all little details that play a crucial role in keeping your home protected from the weather.
Clean the gutters – This is an annoying task, but we can't stress enough the importance of keeping your gutters clean before winter. Gutters play an essential role in blocking water from entering your home, so it is critical to ensure that they are free of any junk and debris such as leaves and branches.
Check your roof – Alongside the gutter, it's also important to take a look at your roof for any shingles that need to be replaced. This step ensures that your roof can endure any damages once the snow and freezing rain pour in. There are numerous benefits to checking your gutters and roof, the first being that it will prevent any possible problems that could arise in the future.
While there are certain things Mother Nature does that are out of our control, the least we can do is be prepared. These tips will certainly give you peace of mind once those centimetres of snow start piling up.
At Spectrum Realty we offer exceptional real estate services for your family. Whether you're looking into buying or selling a house, we're here to provide you with everything you need. Give us a call at 416-736-6500 and follow us on Instagram @spectrum_realty for all our latest updates.