8 Events in the GTA for You and Your Family this Fall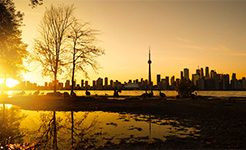 Summer is the time of festivals and events in the GTA, but contrary to popular belief, the celebrations continue on long past the last days of summer. The Greater Toronto Area is lively at all times of year, particularly during fall. With all of these vibrant cultural events happening throughout the city, you'll never have a dull moment this autumn. To help make your search a little easier, we've created a list of some of the festivals and events taking place this season.
The Toronto Biennial of Art
When: September 21-December 1, 2019
Cost: Free
The Toronto Biennial of Art is a brand new, 72-day long celebration of the visual arts. Every 2 years from now on, the Biennial will transform the city into a 10-week long art show made up of exhibitions, installations, performances, panels and more. The goal is for the Toronto Biennial of Art to reflect the mixing pot that is Toronto through culturally diverse contemporary art displays that take up pressing issues and bridge communities. The cost is free, and events will be taking place in a number of venues around the city. Find the full event schedule at torontobiennial.org.
MANDELA
When: October 10, 2019-January 1,2020
Cost: $12
Most of us are familiar with the inspiring story of Nelson Mandela and the movement that he spearheaded in South Africa. MANDELA is an exhibit, held at the Meridian Arts Centre, that aims to capture the spirit of Nelson Mandela as it follows his story from his time in hiding, into being declared an outlaw. Learn about the ways in which his efforts to bring South Africa out of the shadows after years of injustice and racism changed the course of history, and what it meant to the people of South Africa, Canada, and activists around the world. Visit www.tolive.com for event schedules and to purchase tickets.
Yonge Sheppard Centre Block Party
When: October 17, 2019
Cost: Free
Join RioCan, ET Canada, and Sangita Patel from HGTV Canada's Home to Win and more at the Yonge Sheppard Centre Block Party! Now that renovations at the Yonge Sheppard Centre are complete, RioCan is hosting #OurBlockParty to celebrate. The event will feature appearances by lifestyle, food and beauty influencers, Canadian restaurateurs and chefs, radio and TV personalities and more. The party will kick off at 5:30pm and will wrap up at 9:00pm. Visit www.yongesheppardcentre.com for more information.
Toronto Vinylfest
When: October 18-19, 2019
Cost: Free
Calling all music lovers! Toronto Vinylfest is an event designed to raise money for Musicounts, a charity aimed at providing instruments to children in need. Vinylfest is a fun event all about vinyl records by day, and live music by night. Held at the Embassy Suites by Hilton Hotel in Etobicoke, advance tickets/reservations are required. Visit www.torontovinylfest.ca for the full schedule and to learn more.
Kensington Market Taste of the World Food Tour
When: Every Saturday and Sunday from April 27-December 22, 2019
Cost: $45 for children, $59 for adults
Every Saturday and Sunday from April 27 up until December 22, Tasty Tours is hosting the Kensington Market "Taste the World" Food Tour. Kensington Market is a Toronto landmark, known for its multi-cultural variety of cuisine. Enjoy sights and sounds from every corner of the world in this immersive tour, perfect as a birthday present, family trip, or date idea! Visit tastytourstoronto.com to buy your tickets in advance. Make sure you arrive hungry.
The Royal Agricultural Winter Fair
When: November 1-10, 2019
Cost: $16 for youth, $27.50 for adults, $20 for seniors, $60 for family pass.
For 97 years, The Royal Agricultural Winter Fair has brought country charm into the big city with their indoor agricultural and equine event. It is the largest show of its kind in the world, and it includes everything from competitions, to dining and shopping, to kids' entertainment and more. Hosted at the Enercare Centre at the Canadian National Exhibition Place, The Royal Agricultural Winter Fair is a grand, 10-day event. For times, tickets and more information, visit www.royalfair.org
Hot Docs Podcast Festival
When: November 6-11, 2019
Cost: $24-$31
Podcasts have become one of the largest and most popular media platforms over the years, and the biggest names in Podcasting are coming to Toronto for the Hot Docs Podcast Festival, this November. For 6 days, the Hot Docs Ted Rogers Cinema will be bursting with live shows and creator forums. Come join the biggest names in the industry. Visit www.hotdocscinema.ca for schedules, performers, tickets and more.
Cavalcade of Lights
When: November 24, 2019
Cost: Free
The best way to welcome winter and the holiday season is at the Cavalcade of Lights! For 52 years, the live music, skating, circus performers, fireworks, and the first lighting of Toronto's 60-foot tall Christmas Tree have become a seasonal staple to mark the beginning of the holiday season, and the tradition continues this year! For more information, visit https://www.toronto.ca/explore-enjoy/festivals-events/cavalcade-of-lights/.
Here at Spectrum Realty Services, we're committed to giving your family the best possible experience whenever we can. Whether it's helping you find a fun and festive event, or helping you to find the perfect home, our experienced and dedicated team are here to help. For all of your real estate buying or selling needs, don't hesitate to call us at 416.736.6500 and follow us on Instagram at @spectrum_realty.