Decor Tips to Transform Your Balcony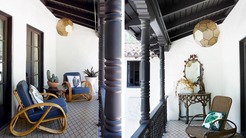 Small spaces offer big opportunities to get creative with décor. When you welcome the challenge, transforming a small space like a balcony can be a fun and fulfilling project. Balconies should never be overlooked. They are a private and convenient outdoor space with the potential to be developed from a simple patio into an everyday escape. We've created a list of some of the best ways to optimize your balcony space so that you can enjoy every endless summer moment.
Have Fun with Lighting
Lighting is the best way to control the atmosphere in any space. With so many options for lighting a space, you're guaranteed to find something functional and beautiful that fits seamlessly into the décor style you're going for. String lights and battery operated candles work as great mood lighting, are inexpensive and will make it so that you can enjoy your balcony at night as much as you do during the day. Another way to add some flair to the space is by using a decorative pendant light. Choose something that ties in the rest of the space either through texture, colour, material or shape.
Let the Green Grow
Plants are a great way to liven up any space, especially a balcony. It is a well-known fact that nature has a positive impact on the human condition. By growing a balcony garden, you can turn your balcony into an outdoor oasis that has the ability to improve your mood and lessen stress. Opt for plants and flowers that thrive in the amount of natural light you get depending on where your balcony is situated. Hang them from railings, put them in decorative pots, or get creative by making a vertical garden along your wall using flowers like roses, geraniums and petunias or vegetables like tomatoes, string beans or peppers. If you have a real green thumb, consider planting a potted herb garden and enjoy fresh herbs like dill, cilantro, mint and ginger with every meal. Plants are also a great way to create the illusion that your balcony is an extension of your living room. Place some potted plants just inside the doors and let them appear to be flowing right out of the room and into your new garden.
Space-Optimization Hacks
There are hundreds of creative ways to optimize the space in any room. For the most part, all of those hacks can be applied to balconies as well and still work just as effectively. Dual purpose furniture will reduce clutter from multiple pieces, hideaway furniture clears up floor space, and furniture that sits low to the ground will help to create the illusion of a high ceiling. Another small-space hack is adding mirrors. Mirrors help give the illusion of depth and reflect light into darker parts of a space, which both help make it so that the room– or balcony– appears larger.
Make it Comfy
Anywhere where you plan on spending an extended period of time has to be comfortable. Find chairs, couches, benches or even hammocks that make your balcony somewhere you want to go to unwind and relax. When choosing what to put out there, always keep comfort in mind. Pillows, blankets and outdoor rugs in your favourite textures and colours will transform your balcony into something you're proud of.
Every condo balcony has the potential to be incredible once you add your own flair and personality to it. By taking these tips, making them your own and applying them to the space, you're guaranteed to create an outdoor space that you love.